Robert Duncan McNeill and Roxann Dawson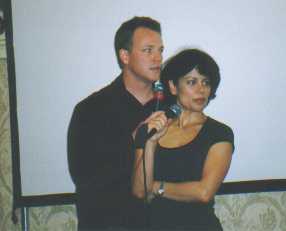 Wow! The short time these two were on stage together made the entire trip worthwhile. Seperatly, each one is funny and engaging, both a true pleasure to see on stage, but together, they just sizzle. It's easy to see where the chemistry that exists between Tom and B'Elanna comes from when you see Robbie and Roxann together. On stage they traded stories about their kids, quipps and kisses, much to the delight of the audience. Roxann joked that Eric dosen't like her kissing other men in public, but she told Robbie that he dosen't count. They joked about Emma and Carter, seems that he gave Emma her first kiss from a boy at her first birthday party, and Robbie made a comment about already making wedding plans. On suggestion from the audience, they sang together, a short rendition of Sonny and Cher's "I Got You Babe" I would have loved to see more of them together, but Robbie had to leave, and I was happy just for the opportunity to see them at all. I did manage to get some good shots of the two of them together though.
Then Robbie had to leave, and Roxann stayed on for another 25 minutes or so. Having so many pix from Denver last year, I didn't take many pix of her, and those I did shoot are still in my camera. But you can see some of last years shots by clicking here
Needless to say, I had an incredible weekend. I enjoyed meeting so many people from the PTFever list, as well as everyone else I met there.
Please remember that all of these pictures are mine. If you want to borrow one, or have any commetns or problems with this page, please email me at