Robert Duncan McNeill ~ March 28, 1999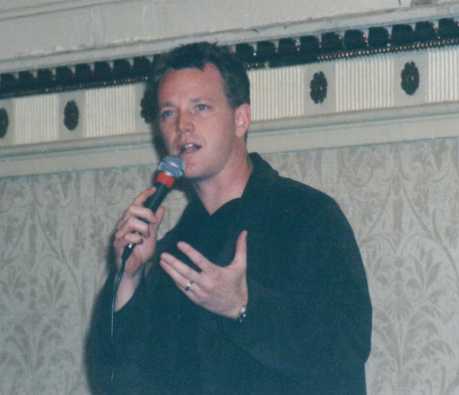 Oh My! So I finally got to see Robbie in person, and I must say, I think I finally see where so many of you are coming from. I have always thought that he was good looking on TV and in pix, but in person, he is just so charismatic, I was just sucked into those gorgeous blue eyes and incredible smile. Robbie had to rearrange his autograph time so he could fly to Chicago after his appearance to film an episode of Early Edition. So he hopped up on stage for a few minutes before signing, and then did autographs for all who wanted them. After the auction, he again took the stage, and spoke to us again for about 20 minutes by himself, entertaining us with his Garrett Wang and Robert Beltran impressions. He joked with the audience about who was actually in control in the P/T relationship (he says he is) He sang the Blue's Clues theme song for us, which as a parent of two almost-five year olds, I can appreciate. Kara and I tried to get him to sing the Mail song, in hopes that he would "wag his tail" like Steve does when he sings it, but he launched into the first part ("we just got a letter..." instead of "Here's the mail...") but did that well and seemed to be enjoying himself. He talked a bit about his Harley and took questions from the audience on everything from his rank to his views on weather Tom and B'Elanna should get married.. I wish he could have been on stage longer, but I kept thinking of this as a warm-up for Starfest 99 in Denver just three weeks later, where I would get to see him again.
I didn't have the best of locations for taking pix, but I did manage to get a few decent ones.
After about 20 minutes on stage, Robert was joined by Roxann Dawson. To see pix of the two of them, click here...